WHO WE ARE
About La Femme Salon and Spa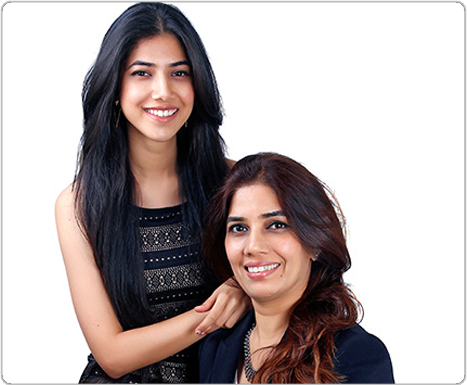 La Femme Salon and Academy has been around for the past two decades and has the implicit trust of its many patrons firmly in place. Our winning mantra: leave your woes at our doorstep and let us revamp you so you leave looking and feeling fabulous. As we say here: every woman is beautiful, so deserves to look just that.
Salon head and proprietor Vani Bhandari is aesthetician, make-up artist, cosmetologist and trichologist, all rolled in one. Needless to say, she holds countless acclaimed certifications in beauty, hair and body treatments. She started small 20 years ago from her residence with just one assistant. But sure enough, with her superb skill set, she gained the steady favour of her clientele over the years.
Her daughter and co-manager, Sanjana Bhandari also holds an impressive bunch of certifications at her young age: make-up from the renowned Marvie Ann Beck Institute; hair styling from B:Blunt Academy and fashion styling from Image Consulting Business Institute.
So you've been looking a certain way for as long as you remember? The look that's just so boring. Well, not so hard to look fabulous in a heartbeat now. Just walk into La Femme Salon and Academy, conveniently located in the heart of Borivali East, and give yourself that much-needed makeover in no time at all.Dull hair or drab face, turning it all around for you is easy-peasy for us.
What WE DO
Hair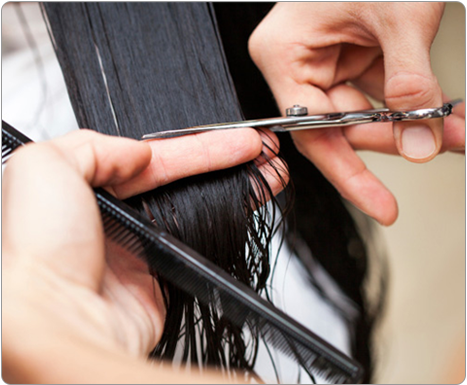 Color
From outrageous and bold to natural, subtle shades, we offer an extensive range of hair colours to suit every kind of hair and personality. A quick style refresh, a total overhaul, a non-permanent option or just something to cover those pesky greys...everything's possible at La Femme. Not only do our stylists help you get hold of that perfect shade, add to that free consultations for hair styling and colour and you'll have a bounce in your step on your way back home.
• Global • Highlights

• Refresh • Root touch-up
Cuts
Choose a hairstyle for just about any age and in any range, from avant garde to the good ol' classics from our vast range. Our friendly La Femme stylists will use cutting-edge hair styling techniques and pay special attention to every whim to make sure you leave here looking and feeling fantastic.
TREATMENTS
Your hair is special to you and so you'll get that much deserved special touch at La Femme. Be it an expert hair straightening or a specialised conditioning treatment, choose from advanced hair care products and formulas to nourish and replenish your hair from inside out.
• Straightening • Deep conditioning
• Hairfall • Anti-dandruff
• Smoothening • Repair and hairspa

FINISH/STYLING
Finish your service with a brilliant blow dry or a specialty finish for the big occasion. An on-trend, big and bouncy blow dry to add volume and shape is a great finishing touch for a night out. Straightening irons can give you that perfect poker straight and sleek look. Or try our latest textured finish. Or simply tease and curl your hair to make it extra bouncy. La Femme stylists will enhance your finish with the latest products and make sure it stays perfect for as long as you desire.
• Blowdry • Curling
• Ironing • Up-dos
Face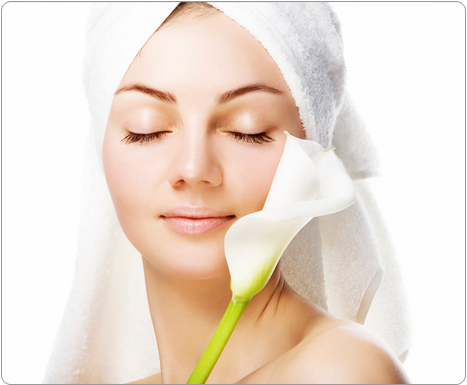 Facials
With our wide range of rejuvenating treatments for all skin types, create a tailor-made facial just for you. Our expert therapists use the latest technology and spa products to give your skin all the pampering it deserves. On offer are a range of facials that employ high-tech apparatus to produce a long-lasting non-surgical effect.
• Anti-tan • Anti-aging
• Oxygen • Brightening
• Rejuvenation

Clean-ups
Our essential clean-up is the quick way to make your skin feel great and give your face a healthy glow. We have a range of treatments for deep cleansing, hydration and advanced skin nourishment for every type of complexion. After a brief skin assessment, you'll receive a bespoke treatment based on your own specific skin type.
• Deep cleansing • Glow
• Enzyme

Cosmetic Treatments
Our advanced cosmetic treatments will offer impressive results and improvements in skin quality without invasive plastic surgery.For instance, microdermabrasion, or the use of tiny rough grains, will remove the upper layer of dead skin and reveal the smoother skin below; whereas the use of chemicals in skin peels will gently erode the dead surface layer and reveal younger looking skin underneath.
• Acne • Microdermabrasion
• Pigmentation • Skin peels

Body, Hands & Feet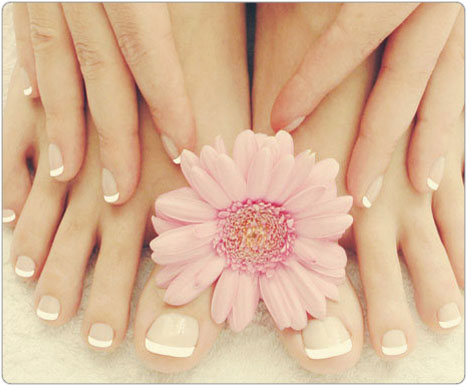 Hair Removal
Get rid of all the pesky hair in no time because La Femme has quick and clean solutions for you.

• Waxing • Threading
• Bleach
Mani-Pedi
Choose from rejuvenating cosmetic treatments, including a hands and feet scrub treatment and exfoliation. We also offer a range of luxury pedicure treatments including massages, foot scrubs, exfoliation, moisturisation and skin rejuvenation, to leave your feet feeling pampered and perfect.

• Basic • Citrus
• Crystal spa
Nails
We have a wide selection of luxury manicure and pedicure services such as filing and polishing, precision nail shaping, infills and advanced cuticle care. And once your nails are in perfect condition, you can choose from the extensive range of nail colour and long-lasting gel finishes
Make Up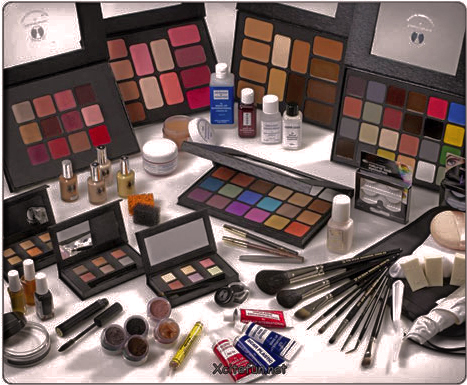 It's your big day and everyone in the house must look perfect. Just call us and we'll make sure that happens! Book an appointment and we'll work closely with you to plan and create every look you've dreamed of, making your day that little bit more special.
It starts with a trial for the bride's hair and wedding dress just so she can see exactly how beautiful she's going to look up there. You can top this with a pre bridal package that offer facials, bleach, mani-pedi, waxing, threading, body spa, skin polishing,cuts and hair spa.
Also feel free to call us even when you want to quickly step out for that party and we'll have you looking smashing in no time! If it's modelling you're looking at, we can help you put together that portfolio quick and easy. All in a day's work for us!
SPA
Body Massages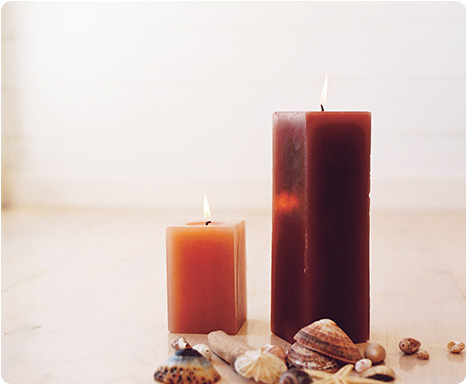 Body Massages
The variety of body massages at La Femme,featuring products from reputed French brand Thalgo, are nothing short of instant rejuvenation. These therapeutic massage treatments focus on relaxation and instantly relieve the stresses and strains of your everyday life. Alternative treatments such as the ancient Indian head massage and reflexology will promote inner peace.
Body Exfoliation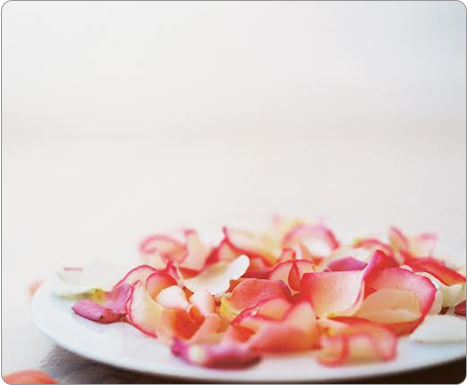 Body Exfoliation
This helps rid the skin of impurities, improves cell renewal, smoothens and hydrates. The red algae in our scrubs stimulates the micro-circulation of the body. The exfoliation is then completed with specific finishing products for moisturization. Skin regains its softness and radiance and active ingredients are more easily absorbed.
Body Wrap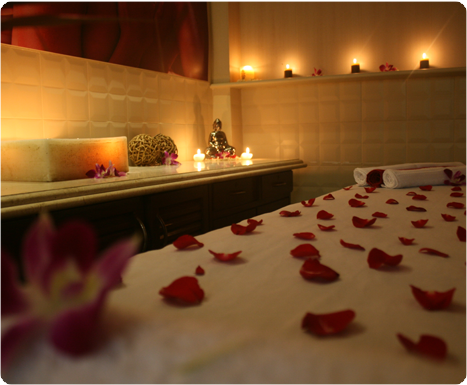 Body Wrap
The signature body treatment from Thalgo, this original marine algae wrap is rich in minerals, vitamins,trace elements and micro nutrients. The Plasma Gel, an antiseptic which is pure marine algae in gel form, allows deeper and effective penetration of active ingredients.This marine algae wrap relaxes the muscles and joints and eliminates metabolic wastes through perspiration. The treatment incorporates the use of a thermal blanket to accelerate perspiration of the body thus enhancing the detoxification process.This treatment activates circulation,increases metabolism and relieves aches and pains.An excellent body wrap for general well-being,total relaxation,refining the figure and breaking fatty deposits, we recommend this as a prelude to all slimming and firming courses.
Body Spa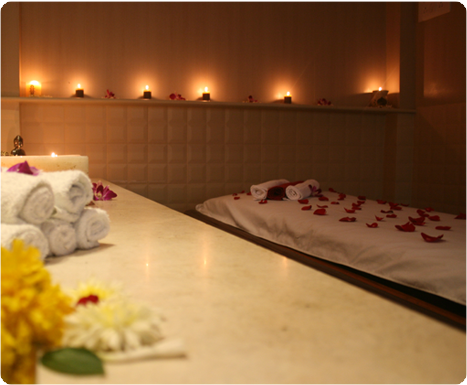 Body Spa
A unique massage technique developed in collaboration with a specialist in ancient Polynesian traditions, this treatment is rich in tradition and offers unparalleled beauty results.
Rebalancing Back Treatment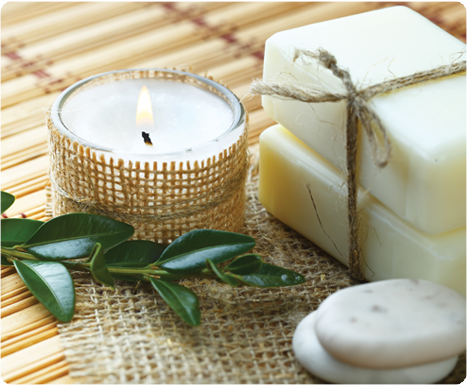 Rebalancing Back Treatment
Rich in natural active marine algae,this treatment cleanses and purifies to leave the skin radiant. The algae scrub polishes the back removing all traces of impurities. The micronised marine algae mask nourishes the skin bringing about an even skin tone and a natural shine. We follow this up with a relaxing back massage with a body moisturizer or aroma oils.
Academy
What we make professionally
We're also about training. And we take this quite seriously. Enrol with us and you'll leave here not just with a certification in hand but with the confidence you need to go out and launch your career in beauty and grooming.

• Basic skin and hairdressing
• Professional make-up
• Advanced hairdressing
• Self-grooming

What They Say
" When i glance over my wedding photographs; i notice a complete bridal make over: the hair, skin, style and make up everything looks so perfect that how i wished for... you people have magic in your brushes to turn an ordinary girl into a princess... you all did an excellent job.. my heartfelt thanks to la femme team to make my wedding experience so wonderful. "

Shafia Merchant
write to book an appointment
Lafemme Salon and Academy, Shop No.B-10-11,Pushp Vatika Bildg, Shiv Vallabh Cross Road, Ashokvan-Ravalpada, Borivali East, Mumbai 400068
+91 22 28974549
+91 9869119369